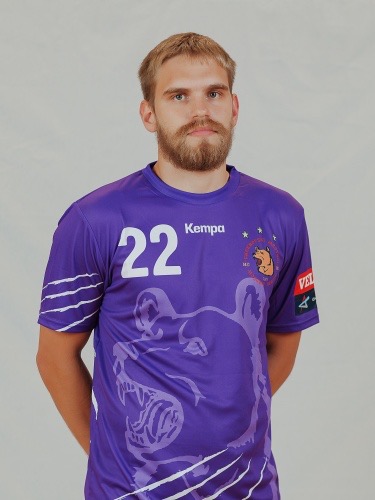 Bli kjent med Igor Karlov
Omsider har vår russiske playmaker, Igor Karlov kommet til Bergen. Vi har stilt noen spørsmål slik at dere skal bli litt mer kjent med den sympatiske playmakeren.

Tell us a little bit about yourself?

I was born in Germany where my father played handball and grew up there until i was 7 years old. From the age of 7 i lived in Krasnodar. This big city with a million inhabitants. Every vacation I come here to my parents. This is my home and I love it.

What about the beginning of your handball carrier?

I started playing handball in Germany at the age of 6. After moving to Russia, I played a little bit of football, but my heart was always in handball, and since I was 10 I still play handball. I played for SKIF Krasnodar and Chekhov medvedi.

What can you say about yourself as a player?
I don't like talking about myself. fans do it better. I hope to please them with a good game 🙂
Scandinavia has very fast handball. All national teams are top level. Almost all of them have excellent shooting preparation.

Ever been to Scandinavia?

I was in Sweden in Gothenburg for the European Open U17. In Denmark with the Chekhov medvedi at the Champions League game. There was not much time to walk. But what I saw I liked. Calm and very cozy.

What do you know about Bergen?
Well, I know that this is the 2nd largest city after Oslo. I know that it is a good looking city. The city of students. Nearby are the stunning Norwegian fjords and a lot of rain.

Who is your role model?
The role model is probably my father. Since childhood, I went to all his games and fell in love with handball. I always dreamed of achieving the same success as he did.

You have some hobbies?
My wife and I love to walk. Every evening we go out, just walk and talk. When we lived in Chekhov, we went to Moscow almost every weekend and spent time there. When I have free time I can play a game console.


Hot/ Not

Fish / Steak ?
Pizza / Pasta ?

Dinner home/ eating out ?
Movie home / Cinema ?
Holiday in Spain / Russia?
Defence / Attack ( handball) ?
Strength training / Running ?